Custom Fine Jewelry, handmade in Austin, Texas
Award winning goldsmith Steve Kriechbaum has been creating custom fine jewelry for over 40 years. His life as a craftsman began in the fine arts department at the University of Texas, in El Paso. There, his time was spent in the studio focused on sculpture, an aesthetic that is still reflected in much of his work today.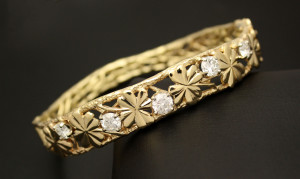 "My jewelry pieces encompass both traditional and contemporary elements. I work with the natural beauty of the human form, and place emphasis on wear-ability. My objective is to create jewelry that is versatile in design, and will span the test of time."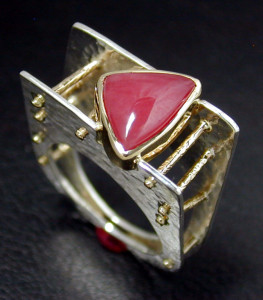 Many designs are centered around bold and colorful gemstones, and are primarily made in 14K/18K gold and platinum. Steve also enjoys working with clients to create one of a kind works that the wearer will cherish, and pass down through generations.
He has participated in numerous fine art fairs and can often be seen at the Southwest's most notable craft shows, like the Armadillo Christmas Bazaar, Midland's Septemberfest, and Fayetteville ArtWalk. Through these annual events Steve has developed a strong relationship with his patrons; an aspect of his business that he values deeply.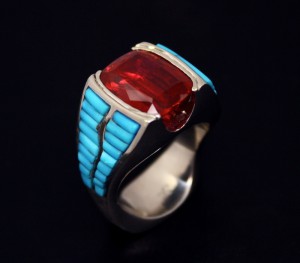 Steve is also an instructor of the craft and divides his time between the jewelry department of Austin Community College and Creative Side Jewelry Academy of Austin. "I believe as a professional, it is my obligation to pass on these techniques and skills and to share them freely with others wishing to carry on the tradition of heirloom style jewelry."
When Steve is not making jewelry he enjoys playing music in the band "Little Red" and with the E-Flat Porch Band (McKinney, TX). Steve is also a member of the Jubilee Band at St. John's Episcopal Church in Austin. He is endlessly grateful to his wonderful family who supports him in all of his creative endeavors.
Awards
Best of Show at the Texas Jeweler's Association Design Competition 2016
Best of Media at the Rockport Art Festival 2011
Mark Chapman Award at the Art Walk Show in Fayetteville TX 2010
Best of Show at the Waco Cultural Arts Fest 2009
Best of Show at Midland Septemberfest 2008
Texas Jeweler's Association Design Competition Winner – 1996, 2001-2007
Texas Arts and Crafts Festival Best of Jewelry, 1999, 2003, 2005 and 2006
Best of Show, Angelfire, New Mexico 2005 and 2006
Silver, Wichita Falls Spring Fling, Wichita Falls, Texas, 1998
Top Ten, Ruidoso Art Festival, Ruidoso, New Mexico, 1995 and 1996
Best of Jewelry, Fiesta Laguna Gloria, Austin, Texas, 1995
Best of Show, Wichita Falls Spring Fling, Wichita Falls, Texas, 1993
One of three awards, Kaleidoscope Art Museum Southeast, Beaumont, Texas, 1991 and 1993
Top Ten Award, Lancaster on the Square, Lancaster, Texas, 1990 and 1991
Exhibition Honors Award, Texas Arts and Crafts Fair, Kerrville, Texas, 1989-1991
Best of Show, Old Oak Cliff, Oak Cliff, Texas, 1989 and 1990