Spontaneity Important to Top Festival Jeweler
by LAURA CLYMER, Ruidoso News Staff Writer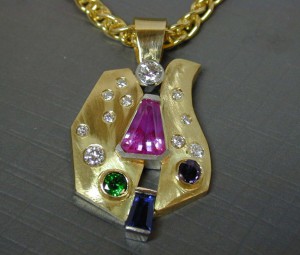 Steve Kriechbaum firmly believes "an artist should not stay stagnant." The Texas artist best expresses this philosophy in his unique, three-dimensional jewelry designs.
"I do not have cookie-cutter rings," Kriechbaum said, explaining his interest is in continually changing styles as a way; to stretch and grow artistically.
He does have some limited production and molded pieces, but prefers to work spontaneously sometimes without even sketching a design first.
"I start right in on a piece and let the piece dictate the direction," Kriechbaum said. "That freedom allows me to be really creative."
Since he tries to avoid repeating designs, Kriechbaum admitted he's a better artist than businessman.
"I would rather sacrifice money, and do what I want to do," said Kriechbaum, who has his studio in Austin, Texas.
Kriechbaum said he is looking forward to his eighth appearance at the 24th annual Ruidoso Art Festival as an opportunity to escape the Austin heat and show off his jewelry. Last year he was a top 10 artist at the Ruidoso show, and he has enjoyed similar success at art shows in Beaumont and Austin this year.
The 44-year old Kriechbaum has been tinkering with jewelry ever since he was 14 years old. The El Paso native attended the University of Texas at El Paso where he studied fine art. But UTEP's art department offered only two jewelry-making classes. Kriechbaum took both courses, and then taught himself advanced techniques by reading books and by trial and error.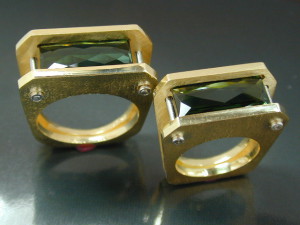 While at UTEP, Kriechbaum spent a majority of his studio hours sculpting, an influence reflected in his current work. Kriechbaum often casts three, four and five pieces together for a ring.
He describes himself as a three-dimensional person who still enjoys sculpture and likes to build boxes and other objects.
Kriechbaum believes his one-of-a-kind designs and his attention to fine details are the reason customers come back for additional pieces. The finishing of a piece of jewelry will make or break the design, Kriechbaum said, and patience is required to see that process through.
What are some signs of an "unfinished" piece? Kriechbaum said flat surfaces should be sanded in sequence before polishing, and all the gemstones should be set on the same level. Every piece should be soldered well, and there should be no "pits" or " waves" in the surface.
This is especially true when working with platinum, one of Kriechbaum's favorite metals to use. The silvery-colored platinum, Kriechbaum noted, was the preferred metal of choice for jewelry before it became a "strategic" metal used in electronics just prior to World War II. Platinum is difficult to mine, which also limited the supply from South Africa, Kriechbaum explained. White gold then emerged as a jewelry metal when platinum became scarce.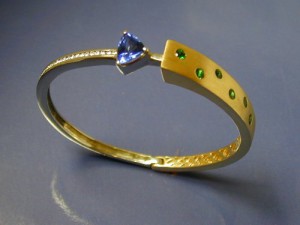 But the metal has made a comeback; Kriechbaum calls it a "renaissance of platinum." He is using the metal again because of its durability, among other things.
"The beauty of it is that it outlasts gold twice as long," Kriechbaum said. "You can use less metal and get the same effect."
Kriechbaum works mostly with 14 and 18 karat gold and platinum. Rings make up the bulk of his work, but he does produce some earrings and pendants.
"I like to feature a colored gem accented by other colored gems or diamonds," Kriechbaum said.
As an artist, what's most important to Kriechbaum?
"Craftsmanship should be throughout the entire piece, a whole concept," he answered. "It must be comfortable and still make a statement.
"I believe my jewelry designs work with the natural beauty of the human form. My jewelry has depth and versatility of design to stand the test of time."
For more information on the Angel Fire Art Space in Ruidoso, New Mexico, visit their website at www.angelfireartspace.com.